The former A. Cooke's pie and mash shop in Shepherd's Bush, west London. The business, which was started by Alfred Cooke in 1899, moved to these premises at 48 Goldhawk Road in 1934. Cooke's was often frequented by Queens Park Rangers football fans on their way to or from the ground at Loftus Road, and was the cafe featured in The Who's classic Mod film Quadrophenia.
The shop was forced to close in July 2015 after being served a compulsory purchase order as part of a redevelopment of Shepherds Bush Market and surrounding area. However the owners of Cooke's moved to sell their pies, mash, liquor and eels online and can now deliver nationwide. The shop was due to be demolished but delays to the plans has meant the facade has recently been restored instead.
Redevelopment of Shepherds Bush Market.
In March 2012 the local council, Hammersmith & Fulham, granted outline planning permission for a phased redevelopment of Shepherds Bush Market and adjoining land. This comprised the demolition of existing buildings, a refurbishment of the existing market and the construction of new buildings ranging from 2 to 9 storeys to provide new residential dwellings and non-residential space. Apart from securing land needed for the development, work has yet to start on the scheme.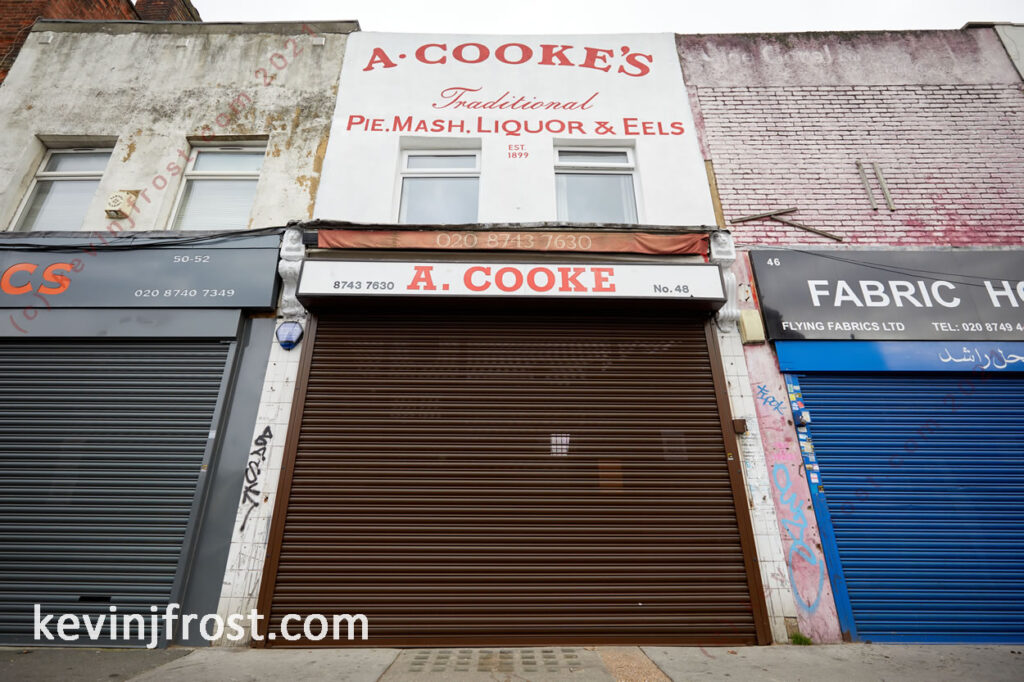 ---
Further information.
---
Image information.
Date taken: January 2021.
Address: Goldhawk Road, Shepherds Bush.
Camera: Canon EOS 5D (Mark IV) with 16-35mm lens attached.
---